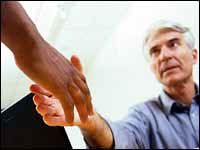 We look for many qualities in the individuals we hire -- the ability to communicate effectively, a high level of organization, strong interpersonal skills, and so on.
Regardless of an applicant's qualifications, we always look for one attribute in particular -- the desire to provide high quality products with excellent customer service. We can train people how to work with clients or run pieces of equipment, but to have passion for customer service and pride for your work takes a unique individual.
If these are qualities you possess, we're sure you'll find a rewarding career with us. We supply our team with the latest technology, afford them the best training available, and provide every opportunity for growth within our company.
Current Corporate Needs and Job Openings
Seeking Sign Shops to Acquire
Miramar Sign Works & Graphics is aggressively seeking partnerships to help us meet our ambitious growth objectives. We are actively seeking partnership and merger & acquisition opportunities. If you own a sign shop and are thinking of retiring...give us a call, maybe we can help you meet your goals. Or if you'd like to work together to help each other grow, I'd love to talk with you about that too.
Seeking Sales Reps
We are currently looking for experienced, ambitious and effective sales employees to help us meet our company growth goals. Our marketing and business development efforts bring in lots of leads. Our reps also do their own networking. We pay a wage and commission on everything you sell.
If you're interested, please upload your resume below or fax your resume to us at 858.566.3080. Call Paul at 858-566-3010 with any questions.
Acquisition Candidate

We are looking for sign companies to merge with or acquire. Please call Paul at 858.566.3010.